Welcome to After Life Wiki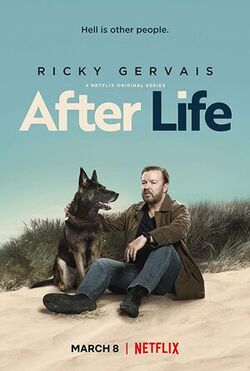 After Life is a comedy-drama web television series on Netflix.
The series tells the story of Tony Johnson. Tony's life was turned upside down when his wife died of breast cancer. He contemplated suicide, but decided instead to live a life doing and saying whatever he wants to punish the world for her death. This plan is thwarted when people just try to make him a better person.
The show stars Ricky Gervais, Tom Basden, Tony Way, Diane Morgan, and Mandeep Dhillon.
After Life seasons one and two now streaming on Netflix.